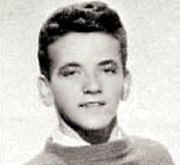 Danny "Seth Sutter" Westbrook (May 3, 1984), hes was American musician, he was frontman of the group Seth & the Janitors, The Group biggest hit was "At the Hop".
He was born in New York, the youngest brother of Clayton Kennedy, American Soldier Sergeant Derek "Frost" Westbrook Army of Delta Force commando and a member of Team Metal, Dennis Kennedy, and Jack Kennedy. Danny and hes older Brothers, gonna go to hes birthday party at Derek Frost Westbrook Base at Delta Force's Base.
At Graveth Studio, Danny Kennedy's Procuder Graveth Puckett, Danny Kennedy joined The Jokers later renamed "Seth & the Planet Juniors" in 1989. Seth & the Janitors made a new album called Let's Lock the Door (And Throw Away the Key) released in 1991. Also hes band Seth & the Janitors.
On August 6, 1992, In New York City, He have new 2 albums called I Wounder Why, cover by Dion & the Belmonts, and Rock 'n' Roll Is Here To Stay, released in August 8, 2011.
In 2012, Seth & the Planet Juniors will be in Vocal Group Hall of Fame.